Ask any of our customers about us, and they'll say how easy-to-use FI Works is followed by how powerful it is.
From the ground up our platform has been designed to accomplish three key objectives:
01
We solve the data dilemma.
02
We make intelligent targeting easy.
03
We drive high-performance behavior.
Solving the Data Dilemma
Getting good data isn't easy and can be expensive. FI Works solves this problem with a solution that cost-effectively sources prospect and market information, and then automates the consolidation with daily updates of your customer data to produce an extremely accurate list for analysis.
Poor quality data is the foundation of ineffective sales and marketing – no other solution (even banking-specific solutions) has solved the data sourcing and data management challenges to produce highly accurate customer and prospect data for sales and marketing efforts.
Updated Daily
Daily updates from your Core and other banking systems improves accuracy and makes this a tool that delivers value every day.
Predictive Analytics
Sourcing household and business demographic data for both customers and new prospects provides a complete database from which to run predictive, targeted analytics.
Accurate & Dependable Source of Truth
Our automated process performs data cleansing, consolidation, de-duping, and householding processes – making the data that we analyze really clean, complete and accurate.
Data integration through the FI Works platform empowers bankers with a highly accurate and trusted foundation for effective sales and marketing.
Complete, accurate, and dependable data

Previously unconnected information linked together

Updated daily with fresh data

Demographic customer and prospect data at the frontline
CASS Certified Address Standardization & Cleansing

Fuzzy Matching

Customer De-Duplication

Householding

Data Quality Reports
Schedule a demo to see the complete solution for bank sales and marketing that outperforms any other offering in the industry.
Making Intelligent Targeting Easy
Financial institutions are overwhelmed with raw data leaving them data rich, but information poor, making it difficult to find hidden patterns in data that can lead to improved profits.
Our predictive analytics engine is a game changer. It applies advanced statistical and machine learning techniques (similar to Amazon, Netflix, Apple) to identify highly qualified targets for sales or retention campaigns. No other solution offers this kind of intelligent targeting that fills front-line work queues with leads that drive such a high success rate for bankers.
We apply predictive models (statistical algorithms and machine learning techniques) to better understand your customers, prospects, products, etc. and to forecast future probabilities. While we have very sophisticated software and processes, an equal part of what we do comes from our years of experience in applying these tools specifically to banking which has its own unique challenges.
It allows us to predict which products each customer will be interested in based on market cluster, lifestyle, demographics, and transactional data. It can identify customers with a propensity to accept a debit card offer or open a home equity line of credit. We can also create models to score customers for profitability and attrition risk allowing you to identify and keep your best customers.
Most automated sales and marketing solutions provide list management, contact management and campaign execution tools. However, what they don't offer is predictive analytics specifically designed for the banking industry. Intelligent analytics that produce targeted lists of customers and prospects with the highest propensity to buy certain banking products or that detail customers at risk and why they are at risk. FI Works' intelligent targeting is the golden grail of producing high performance sales and marketing results.
Simple list filtering capabilities provided by other solutions, based upon criteria like income level, do not offer the valuable predictive modeling and intelligent targeting abilities that FI Works offers. In contrast, FI Works truly analyzes the data to accurately identify at-risk customers or the best targets for growth because of their propensity to buy a specific banking product. This is what produces accurate lead lists that drive performance gains.
Benefits
Gain the same competitive advantage as the largest banks

Turn your wealth of data into actionable insight

Use predicitve analytics to forecast future outcomes

Make better decisions and get maximum value from your business

Understand hidden patterns and trends

Find the root cause of performance problems

Say goodbye to stale spreadsheets and reports
Our client recognized that they had a lower debit card penetration rate than the best of class retail banks. Previous mail-based marketing campaigns resulted in unsatisfactory response rates and a low return on campaign expenses. They wanted to take a different approach that would directly target customers who would use a debit card.
We used transaction-level data and predictive analytics to find checking accounts where the customer was both likely to accept the offer and use the card.
We created and executed a series of campaigns that generated sales opportunities for these customers.
The sales opportunities were automatically distributed and assigned to branch managers in our Sales Management system.
Over the course of 8 campaigns, the bank was able to sell over 3,100 debit cards that generated $649,000 in annual interchange revenue.
Increased Debit Card Volume
Drive High Performance Behavior
This is where the rubber hits the road. FI Works drives high performance behavior at the front-line every day with personal work queues, workflows, scorecards and dashboards that manage daily activities, monitor progress against goals and identify issues. Bankers are highly motivated to use these tools because they are visual, easy to understand and show them exactly what they need to do to grow sales, retention and profitability.
Calculate Profitability
In order to improve profitability, you must be able to measure and understand it. FI Works Performance Management calculates profitability at a very detailed level using Funds Transfer Pricing and allows you to analyze it in many ways. Whether looking at profitability by organization, product, customer, household, or account, this insight into how you make money can drive many decisions and processes.
Features
Funds Transfer Pricing

Cost Allocation

Detailed Reporting and Analysis
Benefits
Understand the profitability of accounts, customers, households, and products

Sophisticated yet easy to understand

Drive decisions based on your insight into profitability
Features
Key Performance Indicators – Key measurements that help you define and measure progress toward your business goals

Scorecard – Collections of KPIs that are appropriate for specific job roles and functions

Dashboards – Guided analysis organized by import areas

Performance Reports – Detailed analysis that compares performance against goals and different parts of the organization and over time.
Benefits
Quick visibility into daily operations and future performance

Communicate strategy and measure progress

Spend less time gathering data and manually creating spreadsheets and more time being a banker

Discover hidden patterns and trends

Completely automated

Access to daily data
Motivate Employees
Scorecards are an important motivational tool to help your employees reach their goals and improve their performance. They also allow you to measure the impact of your staff's actions on key objectives. FI Works Performance Management shows you if a metric is going up or down — indicating if the actions being taken are having a positive or negative impact on each metric.
In essence, scorecards help you set expectations and hold staff accountable for their actions and results. Measurement and goal setting are the keys to success in motivating your employees.
Delivering this type of value to front-line bankers changes the face of marketing.
Features
Goal Setting – Set monthly goals for KPIs

Daily Tracking of Progress to Goals – Daily view of KPIs and KPI performance for all areas of the organization
Benefits
Keep employees focused on your strategy

Measure performance against goals

Hold employees accountable for reaching business goals
There is an old saying: "what gets measured gets done", but most measurement programs are hindered by the lack of accurate, timely data.
FI Works Performance Management gives you quick and easy access to the key metrics that drive your financial institution and is updated daily.
Sales & Service
Our sales and service features are thoughtfully designed for the unique needs of banks and credit unions. Since they are fully integrated with our other solutions it reduces your work because your data will be fully integrated as well. Your customers, accounts, prospects, etc. will already be in the system. Plus, you can leverage our data analytics to drive new sales opportunities.
Our competitors make big promises but deliver cumbersome, complicated, non-integrated systems. Increase the efficiency and effectiveness of your sales team with a product designed for banking.
Our search provides a single-field, internet-type search across customer and company names, addresses, phone numbers, account numbers, reports, and more. It is as powerful as it is simple to use.
Don't know the exact spelling of a customer's name or address? Simply provide your best guess and Insight Search will return exact matches first followed by customers with similar sounding names and addresses.
360° Profiles
Instantly know who your customer or prospect is with customer-level, account-level, prospect-level, and household-level profiles highlighting total value, relationships, demographics, and more. 360° Profiles go far beyond traditional customer information systems by highlighting previously hidden relationships, adding supplemental information like demographics, and empowering decision making with scores for attrition risk and potential profitability.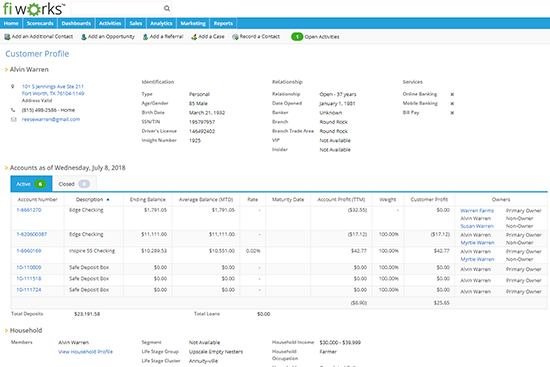 Contact Management
FI Works improves communication between customers, branches, and business developers. Complete contact information along with contact history is shared across the enterprise to improve accountability and visibility of customer communications.
Spend less time managing your Outlook contacts and more time communicating with customers.
Leads & Prospects
Import lead lists from internal or external sources and automatically create new sales opportunities. Qualify and assign leads and prospects with our Leads & Prospects Manager as well as promote leads to prospects. Users can manually enter prospects as well as create new opportunities at the customer, prospect, or household level. Prospects are shared to prevent duplicate records and to prevent others from calling on a prospect being worked by someone else.
Pipeline Management
Pipeline Management is a key factor in driving and managing your sales process. FI Works allows you to gain full control and visibility over your business development efforts to increase sales.
Stop using manual, out-of-date spreadsheets and get an enterprise-wide view of your pipeline and full insight into business development. Our sales features give business developers the tools they need to efficiently sell while giving managers the ability to see the big picture.
Referrals
Leverage your branch network by capturing high quality sales leads and referring them to the right sales team.
Increase profitability by helping employees communicate and manage referrals by automating the referral process.
Features
Manage incentives

Measure and track the referral process

Automatically convert referrals into sales opportunities

Allow referring employees the ability to track the progress of their referrals
Cases & Tasks
Spend less time faxing and emailing by automating communication with your back office through electronic forms customized to your needs. They're trackable, so you can ensure that tasks are completed.
Notes
Record and share notes on customers, prospects, households, alerts, opportunities, and more. Notes roll-up to the profile level, so notes added at the opportunity level, for example, will also be seen on the customer or prospect profile.
Tracking
Monitor and assign/reassign opportunities and work items across your organization. Filter by type, campaign, sales stage, status, priority, assignment, and more. Hold users accountable by understanding what is and what is not getting done. Track access to employee profiles.
The sales and service features within the FI Works platform, integrated with your data and designed specifically for banking, deliver with efficiency and effectiveness. Our tools help front-line bankers sell more, build stronger customer relationships and stay focused on the most critical performance metrics.
Benefits
Increase the value and depth of existing customer relationships

Improve customer service and customer satisfaction

Improve communication between branches and business developers

Improve accountability and visibility of customer communication

Improve efficiency and effectiveness of your sales team
Security
Security is of paramount importance to us and our clients and is a core functional requirement of our platform. Everything we do is based on data, and information security has always been a thorough and end-to-end part of what we do.
Network Security
Enterprise class firewalls

Intrusion Detection System monitored 24/7

Secure VPN connection via IPSEC tunnels

Only secure VPN traffic from your organization to our data center is allowed
Customer Data Protection
Data encryption

Hardened servers

Enterprise class antivirus

Daily vulnerability scans
Data Center Security
SSAE16 SOC1 Type II

24/7 video surveillance

Security guards

Redundant generators and network connections

Servers are completely and solely under our control at all times
Application Security
Best practice reviews throughout design & development

Encrypted passwords

Enforced password policies

Role based security

Auditing and tracking of logins, profile views, page views, data edits, etc.
Sales and marketing you can bank on.SM
Let us show you how to grow your business!