Solve Your Data Dilemma
The Data Dilemma
Did you know that your data is the most strategic asset your financial institution has? Banks and credit unions have a lot of data about their customers – more than any other industry. Yet it remains such a struggle to access it, understand it, or know what to do with it.
Data is messy. It can be incorrect and inconsistent, affecting the way your institution makes decisions. This is largely due to manual data entry, which leaves a lot of room for erroneous or duplicate information. Data is truly a moving target – people change their addresses, phone numbers, marry, divorce and so on, and they often forget to tell their bank.
We call this the data dilemma because banks and credit unions need access to their data and the insights that come with it, but sometimes they just don't know how to get to it and how to make it understandable. How does the data dilemma impair your growth and goals?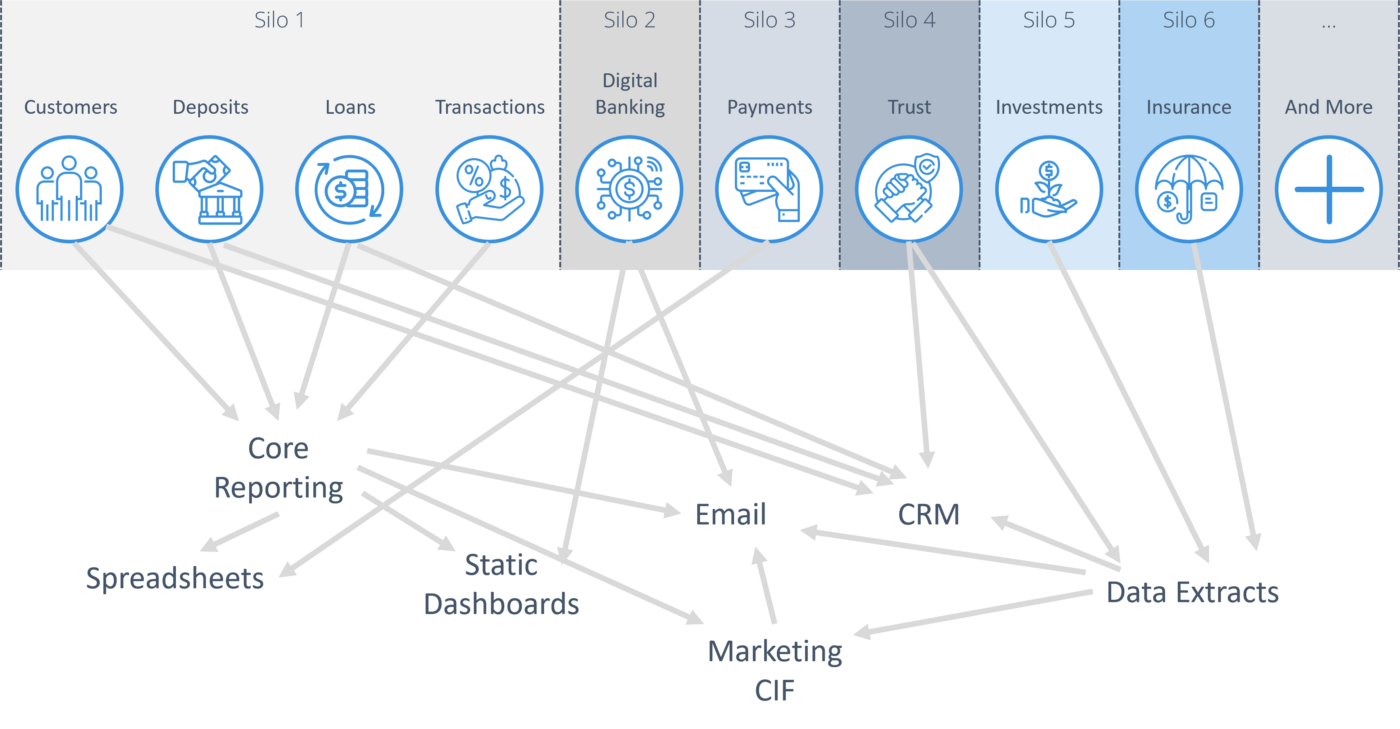 Data Integration
Data integration is like an automated factory – raw materials come into the front end and a finished product goes out the back. Automated data integration takes raw customer data from across your silos and turns it into makes fresh, clean data available each and every day. The finished product is understandable, usable data that the whole organization can see.
FI Works Data Integration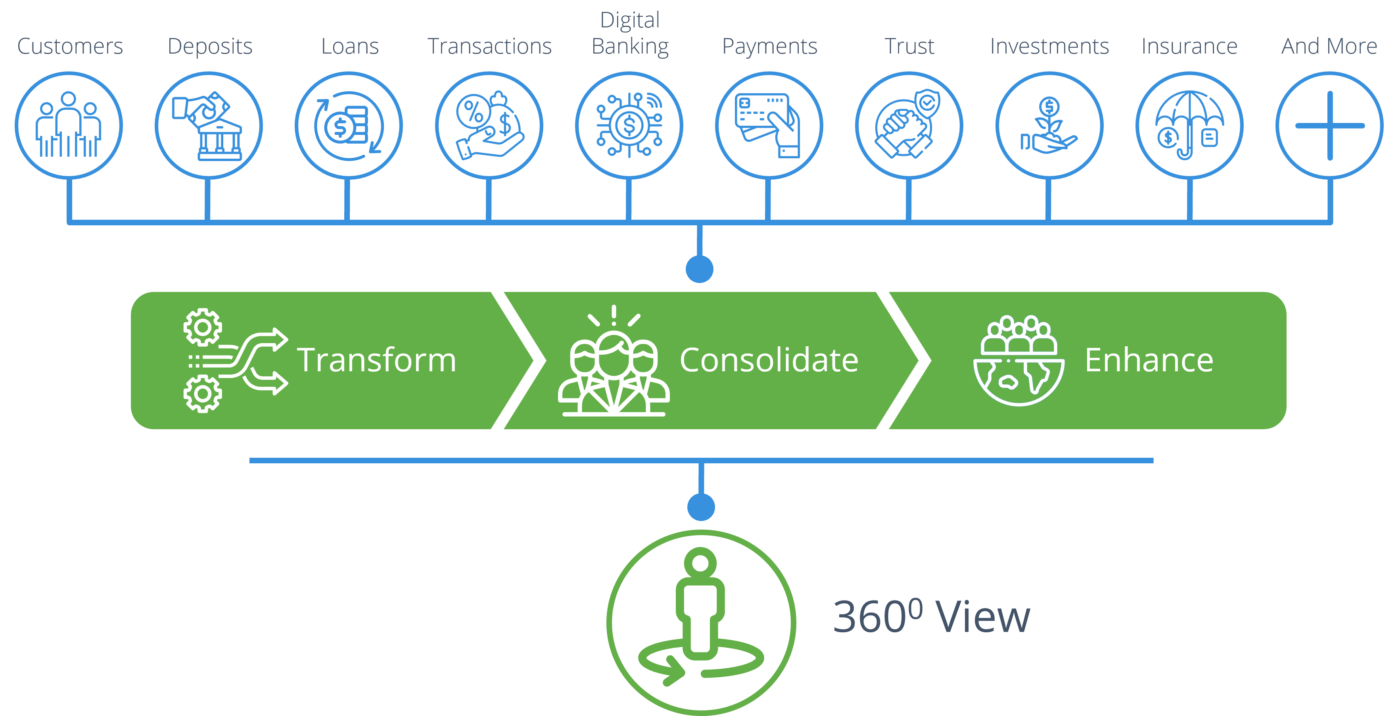 Data Sources
Today's financial institutions have customer data everywhere and each new digital product adds even more. Get access to all your data across your silos.
Any core system.
Any source system.
Any volume.
Every day.
Transformation
Most of your customer data lives in applications that are designed for transaction processing and accounting.
Clean bad and inconsistent data.
Standardize and correct addresses.
Convert system codes into business descriptions.
"Are John E. Smith and John Smith Jr in your CIF the same person?
Are they the same person as John Edward Smith in your trust or investment system?"
Consolidation
Different versions of the same customer reside in your source systems making it difficult to see a single view of a customer. Use fuzzy matching technology to match and de-duplicate data.
Consolidate data from multiple systems into a single view.

Group duplicate customer records across your silos.

Group household individuals into households.
Enhancement
Enhance your knowledge of your customers by adding 3rd party demographics data and lead lists.
Add demographics data like age, income, wealth, home ownership and much more to show insights into customer behavior.
Use lifestage data to segment your customer base.
Geocode customer addresses to add location, county, census tract and more.
Add lead lists to target non-customers to power acquisition campaigns.
We do all the integration for you.
We do all the setup and management for you. Initial integration and setup takes as little as 4 weeks, and we help you every step of the way.
Learn more about implementation
You can trust us to keep your data secure.
Everything we do is based on customer data, which requires that we build our solutions with the utmost attention to information security as a thorough end-to-end part of what we do. Data is stored in a SSAE18 SOC 2 Type 2 secure data center.
Learn more about security and compliance
Where is data stored?
Data is stored in a secure commercial data center with biometric security and redundancy. We perform yearly SOC audits and penetration test to ensure customer data is as secure as possible.
How often is data updated?
Data is processed and updated every business day. Every time you view a dashboard, that data is shown in real time. Most sources of data your institution provides us can be updated every single day, while others (like investment and trust) are updated monthly.
Case Study
Data Volume & Quality
6.5 billion records in data repository