You've heard the news: mobile banking is taking over the industry, the rise of digital is forecasting the death of the branch, and more similar predictions of doom. We're getting Deja vu – we heard it all before about ATMs and call centers in the past. This kind of bleak news can prove particularly intimidating to a financial institution – are branches really going out of style?
We have to disagree. If branch banking is dead, why are banking titans like Chase opening new branches each year? Chase is shifting its' business model away from the traditional and opening itself up to a new style of relationship banking. Simply put, branches are not dead at all, what's dead is the traditional idea of a brick-and-mortar branch. Consequently, banks and credit unions can't do nothing – they need to take the necessary steps to make their branches more alive.  
Leading the Pack
Spearheading this new charge are institutions like Oregon-based Umpqua with their successful interactive retail "stores" and financial innovator Capital One in their expansion of Capital One Cafés. They initialize contact by offering gourmet coffee, snacks, and community events, but the main purpose is engagement. They have become successful opinion leaders in the financial industry simply because they tried something new, something that could make their daily interactions more customer-centric and approachable. What does that look like for a smaller, community financial institution, and where do you start?
Leverage Your Bankers
Your branch employees can be some of your greatest assets. Yet, many times bankers don't quite know what to do and aren't getting much direction. If you're generating daily activities for them and measuring their performance against your goals, you already have a revenue-producing machine with daily return. Bankers have ability to create more revenue if given the proper motivation and instruction.
Consider branches as an outbound channel with inbound traffic. Normally there isn't much connection between the two. Are your employees waiting around for customers to find them? What if those customers don't know what they're looking for or what they need? Thus, your branch's ability to bring in business is stagnant.
This is where the real leverage starts: The key to community banking is proactive banker involvement. If your bankers are proactively seeking out those customers that are unengaged or bettering relationships with customers who need their help, your branch will bring in more potential business and it will better facilitate the relationships that get you there.
Leverage Technology
Pundits like to use transaction volume as an indicator of a branch's success or failure, but in most cases, this does not mean the death of the branch. Transaction volumes in branches are down, but this is what we want! Think big picture: Mobile and digital banking are absolutely GOOD things because they streamline certain processes and open up your branches – and most importantly, your bankers – for more.
Financial institutions can utilize technology rather than worrying that it will render their branches irrelevant. Contrarily, technology is a major step toward creating a more customer-centric institution and bringing in more business. Technological advancement is not meant to replace your bankers. Rather, it can be used in methods like data integration to understand data across silos. In this way your institution uses advanced technology to its advantage to let bankers know exactly who to call on for different products and actively pursue their business. Instead of hoping customers will stop by, your employees become the best inbound traffic to your branches. Use technology to make them invaluable.
See how FI Works' solution uses historical customer data to feed your bankers with tasks targeting what customers actually want.
You Reap What You Sow…
While it is important to stay up to date on newer technology, that does not necessarily mean your bank needs to be 100% digital. If you solely push digital, how will your relationships start or thrive? Avoid pushing your customers to rely solely on digital channels of banking. Don't be the separator between the branch and the customer. If you end up distancing your institution from your customers with technology, then what's the purpose of community banking at all?
This is where you can focus on a branch's value to the customer: what are you offering them that mobile banking cannot? How can you inspire branch loyalty? People still want to have the ability to go to a physical branch, so make that experience that much better.
3 Things Customers Really Want
1. Financial Consultation
Customers want more than a brick-and-mortar building to start an account: they want a safe place for financial consultation and advice. Despite the gloomy forecasting of financial news, people still want a real person to aid them in making financial decisions. Even if your institution had the very best chatbot, would you want to talk to Alexa about your financial needs? Your customers don't either, regardless of their age segment. The next step is to make sure that your bankers are prepared to be that expert when needed.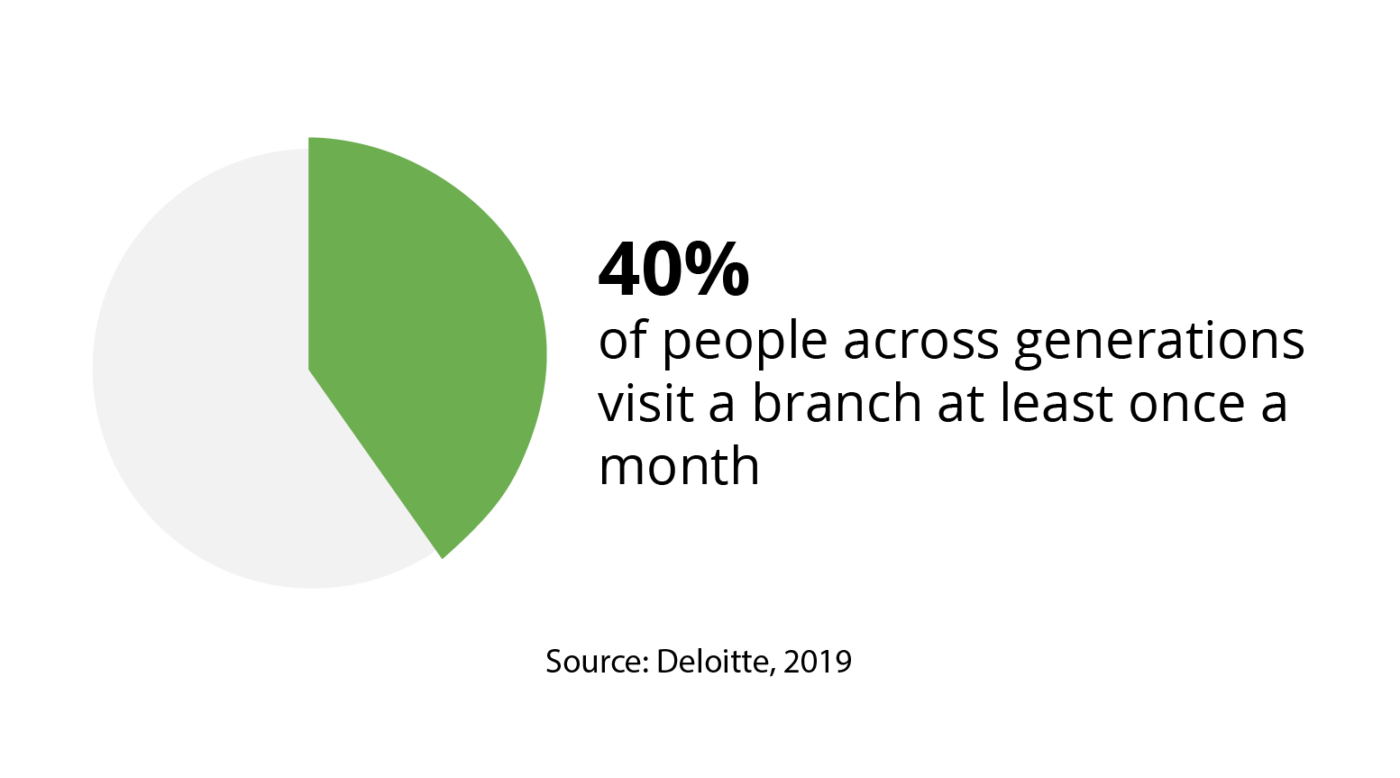 2. Real, personal relationships
Let us not forget in these highly digital times that community banking is all about people and personal relationships. How can you get customers to think of you first for financial advice? You cannot become a trusted advisor without first laying the relationship groundwork. Once a customer feels you are trustworthy and you establish a solid basis of relationship, the ability to sell products follows. Now you personally know their needs and goals and therefore can sell products and services that could really help them. Make the customer want to come to you with their financial needs. You stay top-of-mind all while strengthening your customer base.
3. A streamlined, accessible experience
Dealing with financial needs is already intimidating to many people. Your branch is the perfect place to show your customers that there is less to be scared of.
Customers will prioritize the channels that they want, so make sure to digitize certain processes to simplify seemingly clunky tasks. Don't waste their time with multiple cumbersome tasks to complete inside and outside of the branch, when a digital method could smooth the process and satisfy their need in a single visit. Avoid multiple disconnects between your tasks and their goal. If their experience is muddled or disrupted, there's a smaller chance they will find their branch experience worthwhile to try again. Their trip to your branch should be easy, painless, and they should leave in a better place than when they arrived.
Use digital where digital works best, because this combination of face-to-face plus digital will save you time and enhance the overall customer encounter.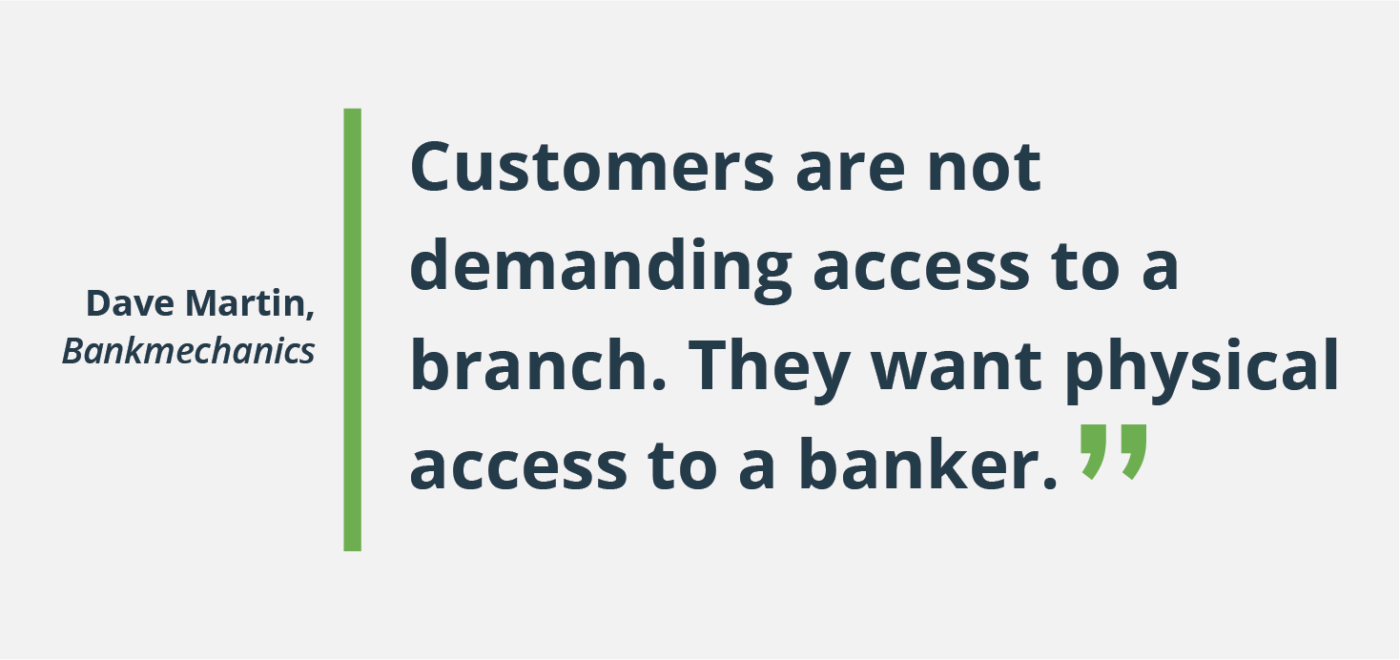 Nothing Changes… if Nothing Changes
And sometimes, change is good! Change doesn't have to mean a fully digital bank where branches are obsolete. Change can actually mean a more promising future for brick-and-mortar institutions where community is brought back to the center. Don't be scared of what digital will do to your bank, as long as you use it to your advantage.
Shift away from the traditional banking mindset: emphasize relationships, customer experience, and leverage your bankers and technology while maintaining the community aspect of your institution that your customers crave.
Like this post? Don't forget to share!