3,700 community banks became Small Business Administration (SBA) lenders almost overnight to support the Paycheck Protection Program (PPP). Since April 3rd, these institutions effectively dispersed one hundred times as many loans as in 2019 altogether. By serving over 4.5 million afflicted small businesses during that period, these banks put over $512 billion into the economy to keep the United States running. (Source: ICBA)
Community banks provided a solution when help was desperately needed. This was a pivotal moment in community banking and hopefully, their aid made a positive impression on their loan applicants. Different banks report anywhere from 40%-80% of their PPP applicants to be non-customers — so how can you assure they stick around? How do you become their primary business bank?
Recently we had the opportunity to talk with SVP and Branch Manager Julie Harrelson and SVP Community Outreach Officer Miguel Lopez, both of Encore Bank in Little Rock, Arkansas. They shared their take on the changes seen over the past few months and what they believe to be some community banking best practices during PPP and the challenges of COVID-19.
What worked?
Community banks' ability to develop and maintain meaningful relationships was a clear strength during the PPP process, especially during such a confusing and stressful period for small businesses. When consumers could barely get an email back from a big bank, many small businesses realized their need to have a direct bank relationship. Lopez pointed out that community bankers were like "financial first responders" throughout the PPP process. They were there to provide guidance and support when small businesses were dealing with the throes of lengthy and ever-changing applications, statewide shutdowns, and loss of business. Although community banks are not on every block and corner, they were in small businesses' corner when they needed their questions answered and their applications submitted correctly.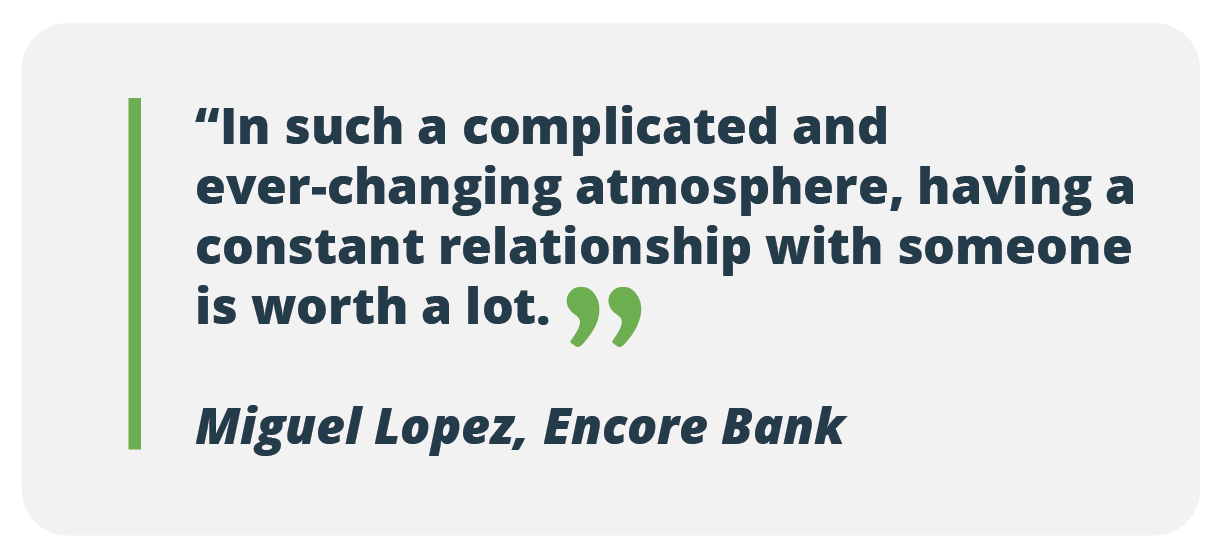 Community bankers with already-existing small business relationships were in the best position to reach out to their network before they could think to look elsewhere. SVP and Branch Manager Julie Harrelson recalled her success in asking for loan applicants' business upfront. She used an onboarding strategy to keep up-to-date with all her contacts so she would not lose a conversion opportunity. With this strategy, she was also able to reach out to her pre-existing small business contacts at the start to be sure they were taken care of.
Personally helping throughout the application process and consistent communication during a confusing time gave community banks ample opportunity to make a favorable impression. But with loan forgiveness approaching, what will banks do to keep these new customers around once the loan is forgiven and the deposits are spent?
Moving forward…
Keep adding value.
James Robert Lay notes in his book Banking on Digital Growth, "Consumers don't buy your products; they buy shortcuts to solve their problems." The Paycheck Protection Program is the SBA and bank-provided shortcut to solving small business's COVID-19 problems. But customer needs will not end there — what more can you offer to solve their problems?
"Consumers don't buy your products; they buy shortcuts to solve their problems."
Helping these businesses throughout the PPP was invaluable, but if you want them to stick around, you must proactively provide help with their other obstacles. It may seem difficult to know how and when you should reach out to expand the relationship and create loyalty, but herein lies a sales opportunity that was placed right at your feet. Remember: big banks and non-banks are also targeting these customers. You now must determine how you keep yourself top-of-mind.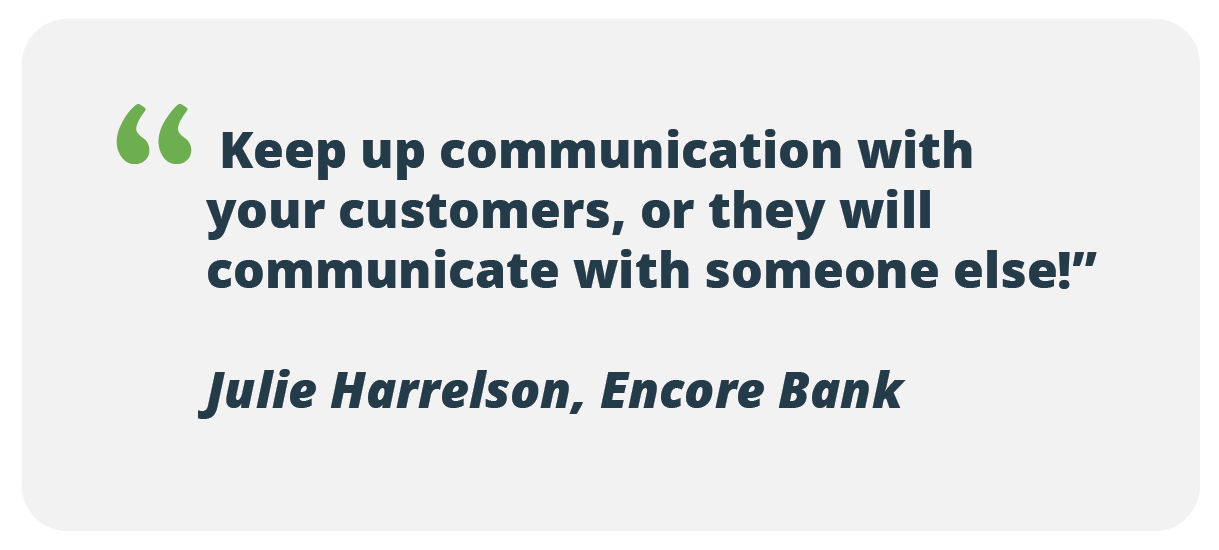 Communication, onboarding, and timing
It is a well-known fact that onboarding systems help to deepen new relationships and boost retention. Now banks are positioned to proactively communicate with and help these new customers, so they do not go running back to big banks. If you can show them the quality, personalized experience you offer, they are likely to stick around. "Anyone can treat a customer well," Lopez said. "But knowing their story, knowing how to actually help them is something to value."
Applying data and technology makes this method systemic. Automated onboarding for a PPP loan customer helps you keep in contact with them, offer them guidance, and reminds them that you are the helpful guide they can reach out to when needed. Personalizing all further communications based on customer data is also key to retaining these new customers.
Each new customer only has one first impression of you, so make this impression last! Communicating in responsible intervals keeps your institution top-of-mind and lets the customer know you are there for them.
A personal relationship (in addition to a customer relationship management system) helps you understand which method of communication works best for each customer. Not everyone can talk on the phone and not everyone is a fluent texter. Luckily, community banks have the dexterity to operate on a case-by-case basis — use this to your advantage! Demonstrate to customers that you understand their needs and you provide a painless, frictionless way to solve their problems or help them succeed during a largely confusing process.
Lessons learned
Bankers who put the effort in on the front end found great retention success. Asking for their business from the start proactively showed non-customers the value of banking with their new lender.

Consumers who worked with a big bank versus a community bank had very different experiences. Small businesses are now aware that they need a personal banker because of the unique issues involved with the COVID-19 crisis. Not everyone has time to message a chatbot or wait a few weeks for an email or call back. Sometimes you just need to pick up the phone and get advice from a person you can trust.

Committing to the quality of the process is essential. "If you do right by one person, they're going to tell somebody," Lopez advises. "That's how you start growing the business laterally." Those good experiences set the tone: this is the service level you will experience beyond PPP. Delighting them in this small window of time will help them remember that experience for the next time.
"If you do right by one person, they're going to tell somebody"
What's Next
Do not write off these small businesses that spent their money and moved on. This is still a fresh relationship and you can still gain their business.
1. If you do not have an onboarding program to help in situations like this, now is the time to invest in one.
Bankers that consistently kept up with all their contacts were able to retain these new customers more easily, and it positioned them to cross-sell products and services beyond their PPP needs.
2. Consider the measures you can take to convert these single-service PPP customers into loyal customers for life.
Beyond onboarding, what can you do with these contacts now? We have seen attrition rates of around 14% during the PPP, which adds up to an 40.5% annually. These new customers are clearly at a higher risk of leaving, so you will need to show them the value of banking with your institution sooner rather than later. Consider services you know they will need based on what accounts they already have and offer them.
3. Understand where these relationships are
Do they have other products and services? Has anyone offered?

Which pre-existing customers received loans?

How much money is left in their PPP deposit account? Has anyone offered to guide them in a strategic plan?

Is anyone from the bank still communicating with them?
4. If you do not have a CRM to track and monitor everything, think about investing in one before the next crisis hits.
CRMs help institutions keep everything in one place, so every employee is connected whether in a branch or working from home. If you can see a 360-degree view of your relationships with every contact, converting loan applicants into loyal customers gets much easier.
With talks in D.C. about another round of the Paycheck Protection Program, it is critical that community banks have a plan in place to not only aid these small businesses in need, but grow and maintain the new relationships that came out of it.
Like this post? Don't forget to share!