Set your relationship management strategy apart with a modern take on sales and marketing. Here's some things to look for in your next CRM and 4 factors that can make (or break) it.
Customer relationships are at the core of any sustainable business. The concept of taking care of customers is nothing new, yet the way that businesses are going about it has been evolving for years. Customer Relationship Management (CRM) began as a business strategy to help organize and retain customers (Rolodex, anyone?) and find new prospects in a more customizable way. Now the term "CRM" is used to describe applications like Salesforce and the like that can organize customer information for the purpose of managing sales processes.
CRM systems are used to compile customer profiles (with email addresses, phone numbers, addresses, etc.), set reminders, manage sales opportunities, and view sales pipelines. Some platforms can even send automated email communication to customers and prospects.
The number of companies using CRM systems has risen exponentially. According to Gartner, CRM software revenues surpassed database management systems as the largest of all software markets in 2018.
These systems can be utilized by financial institutions to keep track of their customer relationships, keep those customers satisfied, and foster a customer-centric way of business. Some sort of relationship management platform is vital for financial institutions to manage customer data and to know what products their customers already have.
Some financial institutions still have Marketing Customer Information File (MCIF) systems that are merely databases of customers and accounts. Although technology has far surpassed MCIFs, financial institutions continue to make use of them. They may also have some other marketing automation platform in place, which is normally limited to a single channel like email automation.
Commonly, CRM systems are either more geared toward serving the needs of marketing (email and other marketing automation tools) OR sales (automation for contact management and pipeline reporting), and neither do a good enough job providing the tools that drive high-performance campaigns. In our opinion­ – you deserve better.
Most CRMs Don't Do it ALL
Vendors often claim that they can do it all but lack the most important capabilities. What's missing is the marketing and analytics that enhance a meaningful relationship and the data that gets you there. With just a CRM, your relationships remain single-channel and one-sided. But what more can you do with customer information?
Maybe your financial institution already has a CRM, and maybe it doesn't. We aren't telling you that you need one, but we are suggesting that you revolutionize the way you think about customer relationship management as a means to grow your business.
You need to embrace a new kind of relationship management strategy. One that is set apart because of the combination of sales, marketing and the software needed to combine them. One that makes you as innovative as the bigger financial institutions, supports complete connectivity between channels, and ultimately is intuitive enough to know exactly what your customers need.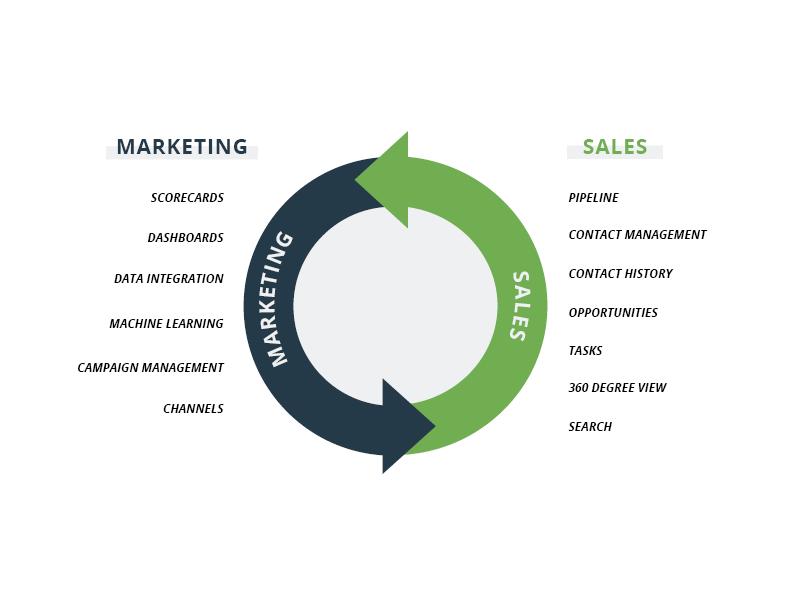 What is Required in a Modern Sales and Marketing Platform – and WHY?
Advanced Technology
When looking for new technology, it's important you think about both sales AND marketing. A modern sales and marketing platform must incorporate technology like Artificial Intelligence and Machine Learning from the very start and not as an expensive add-on. You'll find it easier to target customers and prospects, and in turn to grow deposits and increase sales. These capabilities help sales by learning from customer information and generating tasks and help marketing by deciphering who are the most profitable targets for marketing offers.
Community financial institutions must commit to newer technologies if they plan to compete with bigger institutions.
Needs-based Prediction
No one wants to waste a customer's time, and no customer appreciates it when you cross-sell something they don't really need – but what if you could predict what they want? Adopting Machine Learning to identify key characteristics of your customers puts your institution in front of them. You'll deliver exactly what they need rather than fall behind them constantly guessing their desires.
Financial institutions need to know more than who has product A and not product B. Basic age and income segmentation are not going to be sufficient. An effective platform can integrate demographics to better understand each and every customer. Advanced technology can predict the kind of products a customer has a high propensity to buy, probability to want, or even which customers are most likely to leave. Thus, you keep your customers engaged and inspire loyalty all while developing highly qualified leads.
Task Generation
How are you leveraging your branches as a channel of sales and marketing? While your current CRM or marketing automation tool may be able to send automated emails to customers and leads, it needs to provide much more. A modern sales and marketing platform should generate tasks for the front office that are fed to them on a daily basis. These processes can be streamlined through work queues and dashboards. Branches can power your sales and marketing campaigns if used strategically.
Branch employees benefit greatly from knowing exactly what needs to be done and knowing this will guide them in bringing more business into the branches.
Key Performance Indicators
Customer relationship is more than just keeping track of current and potential customers' profile information. It should also promote organization, efficiency, and high-performance within your team. Using a modern sales and marketing platform should be mutually beneficial on the customer side and the employee side.
Key performance indicators go hand-in-hand with task generation. A modern sales and marketing platform must be able to tell you whether tasks were completed, with what response, and how quickly. This way you can know just how everything and everyone is performing.
Data, Data, and More Data
It's unsurprising that data is required in sales and marketing. Yet, it can be extremely hard to reach, and you need LOTS of it to truly understand your customers. With your customer data in multiple silos it becomes exponentially harder to cater to their needs. A modern sales and marketing platform must provide high-quality data already integrated into it to directly impact the way you look at your customers.
Additionally, a financial institution requires a sales and marketing platform with industry-specific functions; it should include features that help with the daily activities of banks and credit unions. Because the financial industry has specialized operations, a platform that addresses these operations is essential.
Complete Connectivity: Making the Marriage of Sales and Marketing Work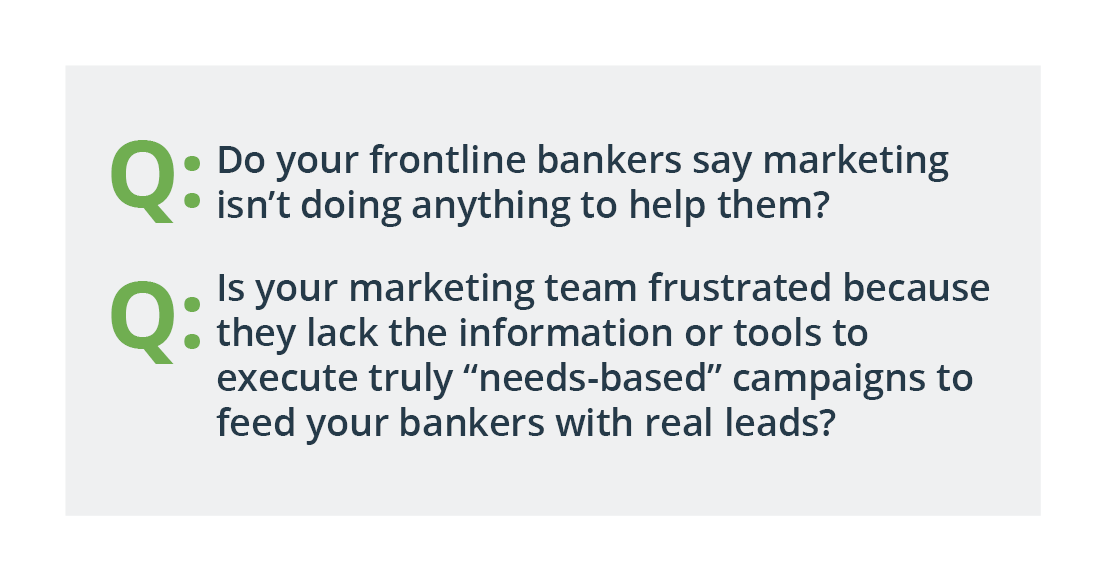 This notion is all too real: Many financial institutions lack the unity needed to work efficiently as a team, and it may not completely be their employees' fault. Your sales and marketing platform should effectively merge every aspect of your front line and your marketing department to help them perform their best.
Imagine a world where each facet of your team exists in total visibility of each other. All channels, tasks, and goals align, promoting efficiency through every interaction. Retail, marketing, and business development sectors need to be balanced, and their activities need to coordinate with equal goals in mind. A sales and marketing platform is severely lacking if it doesn't improve external AND internal communications and operations.
Financial institutions get into the habit of introducing a new technology platform without the support of their whole team. This can be frustrating to multiple parties and ends up wasting resources because nothing gets implemented or no one is willing to make the change. The #1 key to success in this type of project: everyone needs to be on board, not just marketing, sales, IT, or management – everyone.
Know Your Goals
Set goals before you go looking for new technology. If you don't know the kind of results you want, relationship management software cannot give you the help you need. If your goal is to grow deposits, the benefits of the system should reflect that and expand upon the ways you can get your customers to deposit their money with you.
Do not overcomplicate things: remember that ultimately you are trying to improve customer relationship and grow your business. Simply adding a CRM won't turn your institution into a high-performing deposit machine overnight.
4 Attributes That Make or Break Relationship Management
DiscoverCRM.com reports CRM failure rates as high as 63% and attributes a lot of it to selecting the wrong vendor. Here's a guide to use when looking for the right platform and how to evaluate different vendors. These crucial aspects can give your institution the means to go above and beyond and can either make or break your investment in them.
1.Data Integration
Does your platform organize your data and integrate it for use in different channels, or do you have to figure that out for yourself? This is an important aspect of relationship management because it makes use of the many data elements that financial institutions have on their customers – so don't let your data sit idle. We have seen many failed CRM projects where vendors simply couldn't get over the data integration hurdle. Find out how your data will be integrated into your sales and marketing platform because it can make such a significant difference. Good data equals good outcomes, but you have to do it right.
2. Measurable ROI
Do you see almost immediate results? If you employ a successful platform, you should see a quick return on that investment because customers are finally getting the products they want and your frontline employees know exactly what they need to do to drive sales.
There should be a noticeable difference in internal communications, but just being better communicators doesn't provide much ROI. Evaluating the strengths and weaknesses of your institution can assist you in finding out what your goals should be. Different goals can include high-quality customer information, creating objective-based campaigns, and targeting more profitable candidates. If you have previously outlined goals for your sales and marketing platform, it should be facilitating these goals soon after implementation.
3. Cost
How much are you paying for a sales and marketing platform versus how much return are you gaining from having one in the first place? There are a lot of pricing factors to consider: Simply purchasing a CRM can have high implementation or maintenance costs, plus other hidden fees. Most CRM systems cost a certain amount per user per month, which can be up to $1,800 per user per year – and this doesn't even include the hundreds of thousands of dollars for implementation.
Pricing can be a flat rate for a few key functions and tends to go up with each additional feature. Financial institutions often start using expensive CRMs for commercial lending when the number of users is small. Then, they see a hefty price tag when they start rolling it out to the branches and to multiple users. Consider how many users will be working with the platform and whether this number coincides with your budget.
4. Is it just software?
Consider who will be able to administer your sales and marketing platform. Ask yourself whether some of your current team members will be able to run it, or if you'll have to hire someone full-time.
Some software isn't exactly user-friendly. Remember this when choosing a platform: find out how easy or hard it will be to get help, whether you have a dedicated representative or know who to reach out to for assistance, and if there will be comprehensive training included in the software.
At the end of the day, you want to get the most out of your sales and marketing platform. This has different meanings to different financial institutions. That's is why it is important to set goals before you implement the software.
Not All CRMs are Created Equal
Don't waste time and money on a CRM that doesn't deliver results.
Things to remember:
Get everyone on board
Understand the costs you will incur
Know your goals but understand your strengths and weaknesses before defining them.
Don't over-complicate things!
Be wary of gimmicky websites and flashy features
Integrate a modern sales and marketing platform into your business and you will deliver meaningful relationships, boost sales, and become an active competitor. This approach adds constant value to your customers and prospects and will in turn add value to your business.
Do you want sales and marketing you can bank on? See how FI Works effectively combines sales and marketing to not only help you manage and maintain customer relationships, but better market to them as well.