For many financial institutions, 2020 was a year of rapid growth.
The Paycheck Protection Program brought in billions of dollars in new deposits and fee revenue to institutions across the US, according to the Small Business Administration. Mortgage rates were low, and customers leaned on their financial institution during difficult times.
With vaccines rolling out and life slowly returning to normal, financial institutions need to remember that this same growth can't last forever. That's why looking forward, it's necessary to focus on a sustainable growth strategy.
What does it mean to have sustainable growth?
Something sustainable can be maintained over time. Can last year's growth strategy work in 2021 and beyond? Will you be able to grow deposits and loans once PPP funding is gone and mortgage rates increase?
How financial institutions can sustain growth
There are 3 core Customer Relationship Management (CRM) objectives that lay the foundation of any successful growth strategy:
Acquisition
Retention
Expanding Relationships
What is keeping you from growing?
These objectives are nothing new to financial institutions. Why do they remain such a challenge?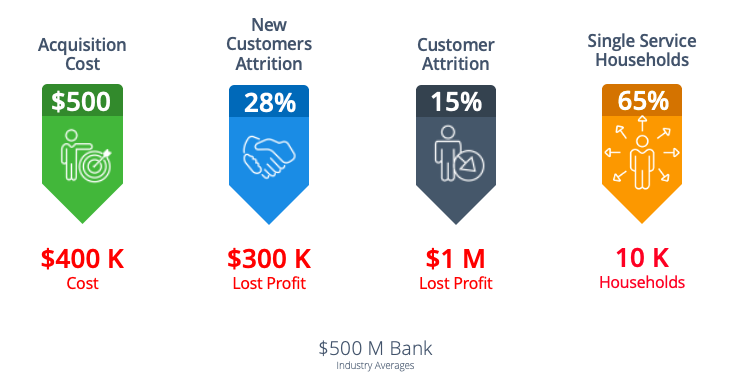 Acquiring new customers is difficult and expensive – 28% of your new customers leave in the first 6-9 months! Retaining existing relationships is also problematic with average attrition rates of 15%. On top of that, up to 65% of customer relationships have a single product which puts them at a much higher risk of leaving. For a typical $500m bank, this results in $1.5 million in acquisition costs and lost profits per year just to replace the customers that were lost.
Everyone wants to acquire loyal customers quicker and at a lower cost, retain their best customers, and grow profitable relationships. Too often, an institution's growth strategy is disconnected, leaving them with confusing results and customers they do not necessarily want. They may run growth campaigns here and there to grow deposits or loans that don't have a place in their big picture. The one-and-done approach does not support a sustainable strategy and won't hold up in the face of constantly changing customer needs and economic conditions.
A holistic approach
While these objectives are difficult to execute, they all work together toward healthy and sustainable growth.
You must first find the right kind of new customers that are less likely to leave. Then, use onboarding to improve these customers' experiences and reduce attrition. Further, cross selling to them leads to deeper relationships and lower attrition. Properly implementing these objectives from the start helps retain the staggering amount of customers that leave in the first year of the relationship.
This holistic and interconnected approach to growth works because none of these pillars can stand alone. Everything you do to acquire, retain, and grow must be tied together to support your overall CRM strategy from start to finish.
Tip: Remember, CRM is first, and foremost, a business strategy and not just a category of software. At the end of the day if you can't acquire better, more profitable customers at a lower cost and help retain them, your CRM strategy will not be successful – with or without the software.
Building a sustainable growth engine
Your growth engine should be fueled by sustainable processes that consistently help you acquire, retain, and expand relationships with customers. Establishing repeatable strategies and processes in these areas leads to deeper, more profitable relationships without fail.
Sustainable growth is all about planning how to grow reliably over time, not based on current economic conditions.
Managing and excelling at acquisition, retention, and expanding relationships will help you build a growth engine that stands the test of time.
Prepare for the future with a sustainable growth plan
While the pandemic accelerated growth for many institutions, this growth is not sustainable. That's why it is important to have a repeatable plan in place that keeps growth going long after COVID-19. You may not feel constrained now, but what will growth look like next year or the years after? It's time to have a sustainable growth plan.
What's next…
This article serves as the beginning of our sustainable growth series, where we will dive deeper into these three objectives and uncover how to leverage them to promote future growth – even through changing economic conditions. We'll include best practices, real data, and our expert tips. Stay tuned!
Ready to get back to growth?
Like this post? Don't forget to share!