Intelligent Marketing drives profitable growth without breaking the bank.
One of the hottest areas forecasted for bank investment is sales and marketing innovation. This includes multi-channel digital marketing, artificial intelligence (AI) and machine learning analytical tools.
This begs the question of how community banks can thrive in a technological age without investing millions. What actions can these hometown banks take to not only grow their deposits, but also retain current customers? They say you should "work smarter not harder," and whether or not you believe that to be true, here is a sure way to mobilize your financial institution to work smarter and see genuine results.
Community banks continue to leverage their distinct strengths: relationship banking and agility. However, smaller institutions will need to be willing to leave the "this is the way we have always done it" adage at bay. Forging a healthy future will require that community banks get smarter about how they drive sustainable growth. It will mean not only making thoughtful investments in sales and marketing, but also embracing the practice of "Intelligent Marketing".
Disciplined Steps to Intelligent Marketing
Intelligent marketing is deep rooted in the concept of knowing your customers and making the banking experience about the customer's financial needs. This sounds a lot like the foundation of community banking, doesn't it?
Let's look at what it will take for community banks to make a shift toward intelligent marketing that's focused on continuous growth while grounded on the benefits of relationship banking. We've outlined a proven roadmap to intelligent marketing that can be boiled down to three critical disciplines:
1. Implement "Intelligent Targeting" using advanced analytics
2. Adopt a systemic marketing approach
3. Commit to ongoing improvement
Implement "Intelligent Targeting" using advanced analytics.
The core of intelligent marketing is all about understanding your customers' financial needs and driving sales and marketing campaigns that align with their needs. This relationship banking approach seems obvious for community banks. However, in the past this method was severely limited to the scale of how many personal contacts a banker could have with customers, and today it just won't keep up with their modern needs.
The good news is that now advanced customer analytics tools — based on artificial intelligence (AI) and machine learning techniques — are available for institutions of any size. The critical success factor will be for smaller banks to look for technologies and partners that deliver solutions packaged to meet the unique needs of community banks – delivered with banking specific functionality and streamlined implementation, all while being cost efficient.
Advanced analytics is the basis of "Intelligent Targeting" which should drive a bank's sales and marketing initiatives by answering these key business questions for a bank:
Where are the best opportunities for growth?
How can we take advantage of these growth opportunities?
Who will we target for a given campaign?
"Intelligent targeting is what fundamentally enables the shift from intuition-based sales and marketing. It embraces the strongest benefits of community banking for the customer – it's about fulfilling their needs."
Keith Henkel, CEO & Founder, FI Works
Intelligent Targeting is accomplished by utilizing advanced data segmentation and trending and enables "propensity to buy" and "needs probability" type targeting. These parameters are used to produce lists of new customers and new relationship campaign targets, as well as empower your bank to cross-sell. The result is campaigns that are targeted at only highly qualified individuals or businesses.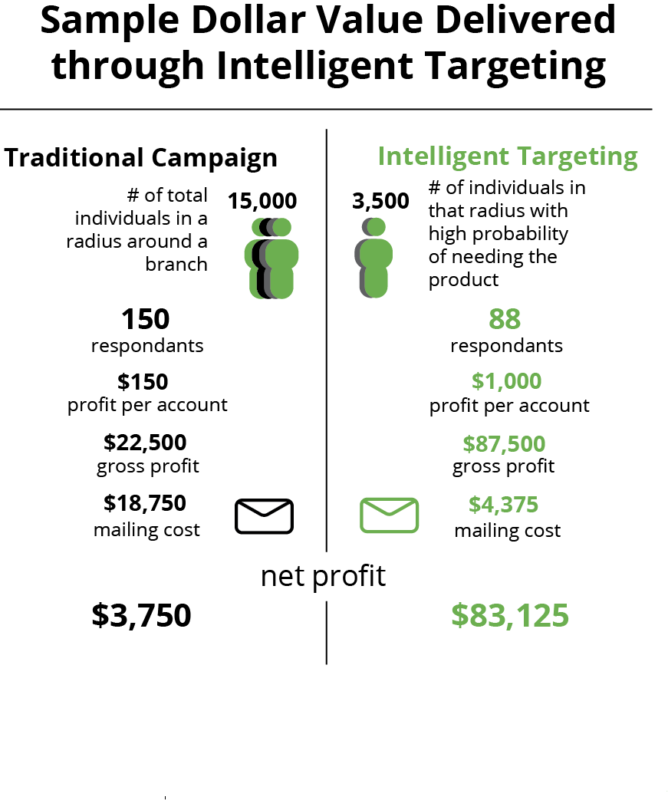 READ MORE ABOUT INTELLIGENT TARGETING:
What is Intelligent Targeting and Why You Need It
2. Adopt a systemic marketing approach.
To obtain sustainable growth banks must adopt a marketing strategy that is based on continuous campaigns which emphasize new account acquisitions, cross-selling, and relationship programs.
It's critical that the marketing campaign process becomes systemic. It avoids one of the most common pitfalls: starting from scratch every time marketing decides to try something new. It's also imperative that marketing drives campaigns in each of these areas with the use of "Intelligent Targeting".
A systemic marketing approach executes continuous campaigns in these key growth contribution areas:
New Account Acquisition
The starting point of any new account acquisition campaign should be to know the customers and know where the institution has found success in the past. Analyzing these tendencies and leveraging this knowledge will be the intelligence needed to target new consumers that the bank already knows to be qualified candidates.


Cross-sell
Continuous cross-selling is a necessity in driving sustainable growth. However, it is particularly important that community banks practice responsible cross-selling. It is at the core of building long-term, meaningful banking relationships with customers. Most banks err on the side of running marketing campaigns to promote products to everyone. Many financial institutions make the effort to exclude customers that already have the promoted product, which although admirable, still is focused on the bank's needs.
The key to successful cross-selling is to make it about the customer and to execute campaigns at least once a quarter. Using advanced analytics, a bank can identify which banking products customers have a high probability to need. Marketing campaigns should only promote banking products based on the customer's needs and bankers should be calling on customers to uncover any additional needs. Banks that take a "needs-based" and "look-alike" sales and marketing approach will produce outstanding conversions and increase customer satisfaction.
Relationship Programs  
Customer retention is an important factor often overlooked in the sustainable growth equation. Banks must be just as diligent in executing well thought out relationship campaigns as they are in executing customer acquisition and cross-sell initiatives.  Using advanced analytics, banks should develop these campaigns based on attrition patterns and relationship alert criteria.
Personalized outreach from frontline bankers should be a critical component to any relationship program. Make certain the bankers are informed about the customer analysis and the details of the campaign elements. It's an opportunity to reinforce the personal touch that customers want from their community banking relationship.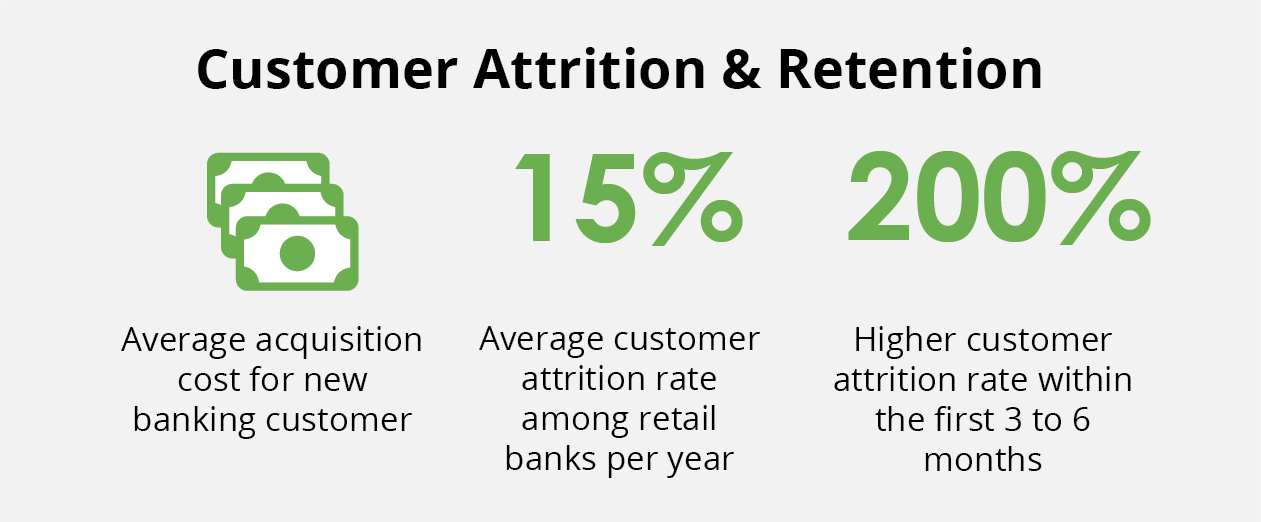 3. Commit to ongoing improvement.
Intelligent Marketing is all about leveraging advanced analytics to drive all sales and marketing initiatives. It's about making these practices a well-oiled machine. It also requires situational analysis and constant review of what's working and where there are opportunities to make improvements.
Today's sales and marketing automation platforms provide the ability to build custom dashboards which help accurately track campaign results. Making the execution component visible for everyone to see – marketing, frontline bankers and management – will ensure that a bank is constantly working on the things that will drive profitable growth across the franchise.       
Avoid the Common Pitfalls
Making the shift to intelligent marketing is not a one-and-done project. It requires true commitment to doing things differently. For some bankers this can be an uncomfortable change because past decisions were often made based upon intuition and instincts. Community banks are going to need to take full advantage of technology innovations if they are going to compete in today's environment.
The biggest risk many banks will face is falling into bad habits. To maximize the benefits of intelligent marketing, it's important to make sure you avoid the common pitfalls that will sabotage your efforts. A bank should periodically review whether any of these practices have crept back into the mix:
Intuition Marketing
Saturation Direct Mail or Email Campaigns
Matrix Cross-selling
Fire Drill Campaigns
Inconsistent or One-size-fits-all Onboarding
Starting from Scratch Marketing Plans
Lack of Campaign Measurements
Lack of Sales and Marketing Coordination
The bottom line. Intelligent marketing pays off.
Relationship banking is a community bank's silver bullet in competing for customers. Using advanced customer analytics fuels a bank's ability to better understand its customers' needs and to focus its sales and marketing resources on the right things. The good news is that there are innovative technologies and partners available to community banks that won't break the bank. The intelligent marketing approach works. The results will be measurable improvements in sustainable, profitable growth. The proof is in the numbers. Click here to see some of FI Works intelligent targeting campaign results.