Netflix and Amazon use targeting to anticipate needs and now consumers expect that personalization everywhere – including their bank. How can banks adopt this successful strategy?
Have you ever received personalized TV or movie recommendations from Netflix or product suggestions from Amazon? If you answered yes to either of these, you have been the subject of what we like to call intelligent targeting. This type of marketing has emerged because modern consumers are more discerning than ever of messages and advertisements they give their attention to. Most Americans are bombarded with around 4,000 marketing messages per day (Forbes) and now consumers want these messages to be relevant to them.
Because well-known companies are already doing personalized communications well, consumers now expect that in other aspects of their lives, including from their bank. If other industries like entertainment and e-commerce are using this type of technology to meet customer wants and needs, why shouldn't community banks?
What is Intelligent Targeting?
Intelligent targeting leverages data to identify the best opportunities for the best products and services to offer to each customer or prospect. It's a data-driven process that requires high-quality data that has been integrated, cleaned, and enhanced. It uses math and statistics to analyze the patterns of what your customers are buying and not buying and then uses those patterns to predict what other customers need. This is sometimes known as predictive modeling or machine learning.
The human mind can see data in a maximum of 2 to 3 dimensions. Fortunately, predictive models don't have this limitation and can therefore consider thousands of data elements to better show you what your customers need. Intelligent targeting can use many data elements including:
READ MORE ABOUT INTELLIGENT TARGETING:
How Your Community Bank can Get Smart About Marketing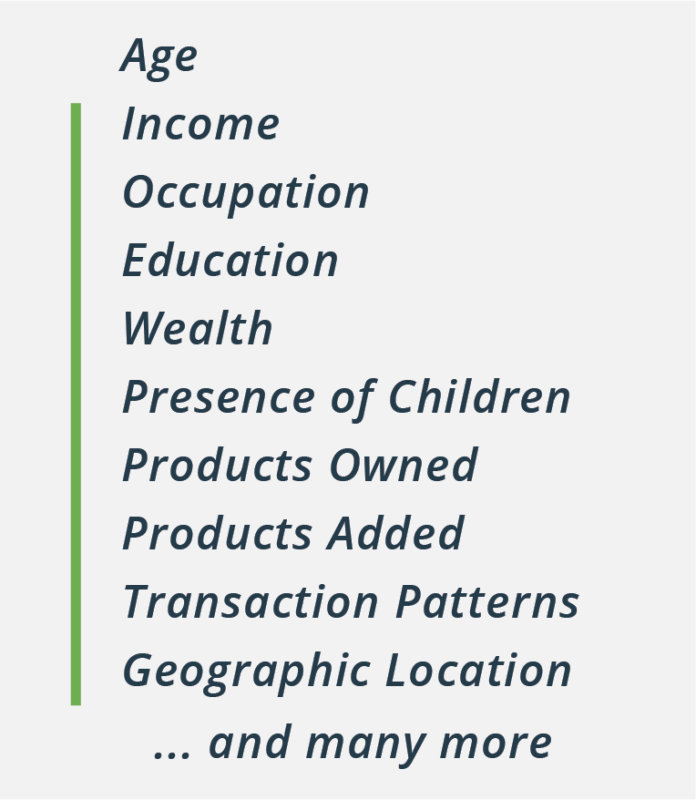 It's not just about getting the data together, but understanding the factors that drive behaviors. If this sounds difficult — it's because it is! Luckily, there are solutions in the market to meet this difficulty.
Ingredients to success in intelligent targeting:
Ask the right question

– Predictive models are great at answering questions, but you have to ask the right one!

Use cleaned, integrated, and enhanced data

– As the saying goes "garbage in, garbage out"

Structure the data

– Predictive models don't think they way you do so you must structure the data the right way

Create models

– Create multiple models and select the best one

Score It

– Apply the model to new data

Put it to use

– Take this new insight and put it into action
Often, bankers use their intuition or past experience to market to their customers or prospects, and that can certainly work in many different situations. Intelligent targeting enables you to make smart business decisions based on understood behaviors — it's all about the data. Financial institutions can employ intelligent targeting to get the products they know customers want and need in front of them before they even think to ask — or before they look for it elsewhere.
Before You Get Started…
As we discussed last month, financial institutions have some of the richest data on their customers, but often aren't sure how to access it, understand it, and turn it into actions. To take the next step toward intelligent targeting, financial institutions must be in control of their data. If you haven't read our latest article about data management, you can read it here.
What Customers Want and Need
Ultimately, the goal of intelligent targeting is to help build customer loyalty, advance growth, and save you time, money and resources. It supports and augments the current community banking model that's rooted in relationships. Taking advantage of all your data helps you to be better at the things you are best at. Intelligent targeting does not replace the banker, rather it enhances relationship banking to its full potential by showing you exactly what products and services your customers need.
Your competitors are going after your customers…
Big banks and non-banks are spending millions of dollars each year on data analysts and expensive tools to intelligently target your customers with data. Community-sized institutions should be able to do this too, without the hefty price tag or hiring expensive data scientists. Providing the personalized customer experience that customers crave will set you apart from them because you can offer much more.
Efficient, Cost-Effective Marketing
Using the intelligent targeting approach drives much more efficient and inexpensive marketing campaigns. Because you are now focusing on customers and prospects who actually have a probability of purchasing a product, you'll use less resources to reach those targets. For example, if you deploy a direct mailer campaign, you will actually send out less mail because you aren't mailing to each person in a geographic location. This results in better response rates and less cost every time.
Practical Application
Here's how to apply intelligent targeting to three obstacles that financial institutions face:
1. Improving and Deepening Relationships
2. Customer Retention
3. Customer Acquisition
Improving and Deepening Relationships
It all starts by understanding your customers better. Since you already have this data on your customers, it just takes seeing and understanding it to know what to do next. For example, if a customer only has a savings account, but all the data points to them as an ideal CD candidate, you can offer them that product and they are already likely to buy. This is a great, proven way to expand the relationship organically and with the customer's needs in mind.
Customer Retention
How can you efficiently retain your customers? After all, attrition rates are up to 28% for new customers and around 15% year on year. When you know what they have, you can offer things they need. Ultimately it's important that you use this insight based on the customer's needs and not on what your institution wants to sell. This appropriate, needs-based selling influences your customers to trust your institution's judgment — they know you're not going to send them any old offer and therefore know that you value their business. Thus, your customers are more loyal and more easily retained.
Customer Acquisition
In order to find new customers, you need to understand your current customer base, which is made simple by intelligent targeting. Your institution already has and continues to produce the kind of data that helps you understand your customers, but many hurdles hold them back from using it and therefore it remains disparate. Once your data is properly integrated, cleaned, and enhanced, you can use it to find customers who mirror your best current customers, then you can swiftly reach out to them with applicable offers catered to their needs. To learn more about how you can practically do this using advanced analytics, click here.
Making the Commitment
With more efficient marketing it's important to think on a long term, systemic basis. Commit to the process and you'll see that intelligent targeting makes marketing and relationship building easier. Don't quit after just one go — intelligent targeting campaigns can be most successful when executed regularly. Customers are more likely to come to you with their next need when you demonstrate that you understand their needs.
Putting the Pieces Together
High-quality data drives high-quality results. Using data to understand your customers makes serving customer needs simple. Intelligent targeting can be used to deepen customer relationships, retain customers, and discover new prospects. You'll be able to compete using the kind of technology your big-bank competitors have already adopted, and you'll save time and resources in your marketing efforts. But how do you actually market your products and services to customers? From here, we will discuss how to make these insights actionable with campaign management.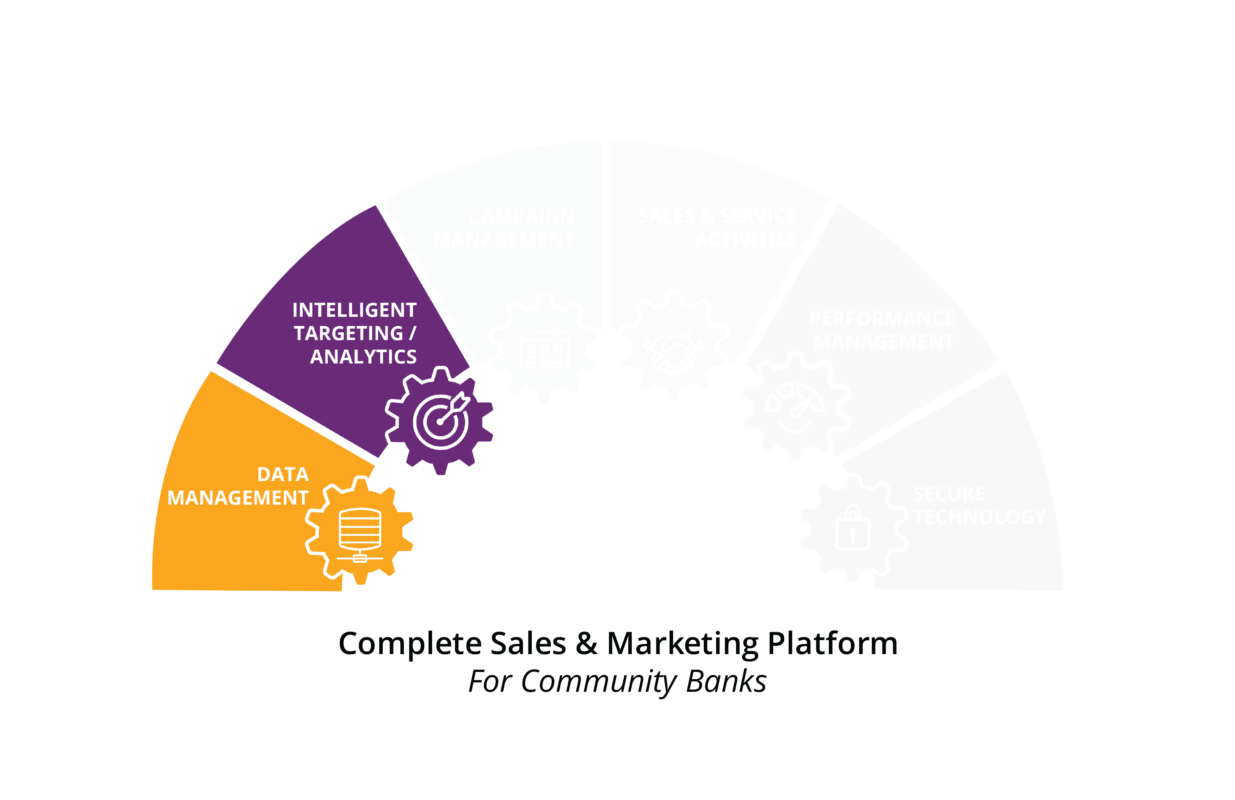 MAKING YOUR JOB EASIER
FI Works hands you all the tools to use intelligently targeting to your advantage. We make your life easier by doing the hardest stuff for you. You'll be able to find new customers and deepen your current relationships. Plus, you can use this ability to market to them more effectively by relying on the models' scores rather than complex rules and intuition.
Schedule a demo with us to see how we can do this for your financial institution.
Like this post? Don't forget to share!