Modern financial institutions are looking for modern marketing tools and, frankly, your customers expect a simplified, and personalized interaction with your brand. The marketing customer information file (MCIF) is not cutting it. In this digital world, it's harder than ever for financial institutions to grow if their technology isn't growing and adapting with them.
MCIFs, basically a database of customers and accounts, performed their job well back in the day, but few financial institutions are happy with what they offer today. Why? The world is quickly changing while the MCIF is stuck in the 80s. Sure, MCIFs can create reports and lists quicker than they used to, but the nature of MCIF remains the same, and is still limited in today's technological terms.
Limitations of today's MCIFs
Data updates take too long (weekly, monthly, even yearly)
Only a narrow view of customer is provided
Personalization is surface level
Data analysis is limited
Reporting capabilities are unsophisticated and inflexible
Beyond generating lists, the system offers little else
Data integrity is questionable which leads to a lack of credibility across departments
Your MCIF cannot be connected with your customer relationship management (CRM) system
Today, you need to know how your customers are using your channels, have fresh, integrated data, and the ability to communicate these insights across the institution and, ultimately, in your approach to the customer. Everything needs to connect smoothly and efficiently. With this kind of tool, financial institutions can effectively improve marketing, reduce the friction that comes with your data problems, and therefore improve and expand customer relationships.
6 Requirements of Modern Marketing Technology
Considering the many hurdles, financial institutions are looking for something new. It all starts with data: seek out technology that leverages the power of data and combines all the necessary elements that drive better marketing. So, what exactly should financial institutions be looking for in "modern" technology or marketing tools?
Data Integration — You need all your data to be cleaned and integrated to truly understand your customers. High-quality, available data helps you cater to customer needs and provides your bankers with a single, undisputed set of information.
Data Analytics — Analytics can show you more than who has product A and not product B, or basic age and income segmentation.
Targeting — You need to utilize targeting for acquisition as well as cross-sell campaigns. Targeting predicts the kind of products a customer or prospect has a high propensity to buy, so you can always offer the right product to the right person at the right time.
Tech that Connects with CRM — You may get a list of customers from your MCIF, but what do you do with that list? Connecting customer information to a CRM helps you make data insights actionable. Plus, it's a great way to see everything you need to know about customers in one spot and makes data accessible across your institution.
A Bank-Specific Product — You need a product created specifically for the financial industry. In many cases, the tools available are built to serve a wide range of industries, yet financial institutions deal with unique challenges that other industries do not.
Access To Your Data — You need more than spreadsheets or static reports. Scorecards and dashboards give you an accurate read on what's going on, what's working, and what's not. They're also an efficient way to track and monitor everything. Scorecards and dashboards benefit every department in your institution because everyone will finally be able to access and use the data. You simply can't get a clear idea of the variety and depth of data you have if you're still importing/exporting from a spreadsheet.
Now is the time to leverage modern marketing technology to improve your customer's experiences with your brand. This will allow you to automate your marketing like Amazon and Netflix while retaining your biggest advantage: your personal customer relationships.
7 Marketing Strategies to Join with Modern Technology
Modern financial services marketing requires modern technology and modern strategy. For you to move your financial institution to the next level, there are seven common sense strategies you can follow to improve and automate your communications while creating unforgettable experiences for your customers.
1. Measurement
Targeted work queues, scorecards, and dashboards drive high-performance for Marketing and your front-line. Identify strategic areas of opportunity, establish a benchmark based on current data and then measure progress from your starting point.
Pro tips
Start by deciding what you need to measure based on your defined goals and strategies!
Focus on actionable measures that let you know where you are and when you are improving.
Use scorecards both to track progress on key measurements AND to track success rates on specific campaigns.
Automate and create distribution of scorecards making measurement tracking visible to everyone and part of your culture.
When programs require front-line staff to complete tasks, measure completion rates and time to complete.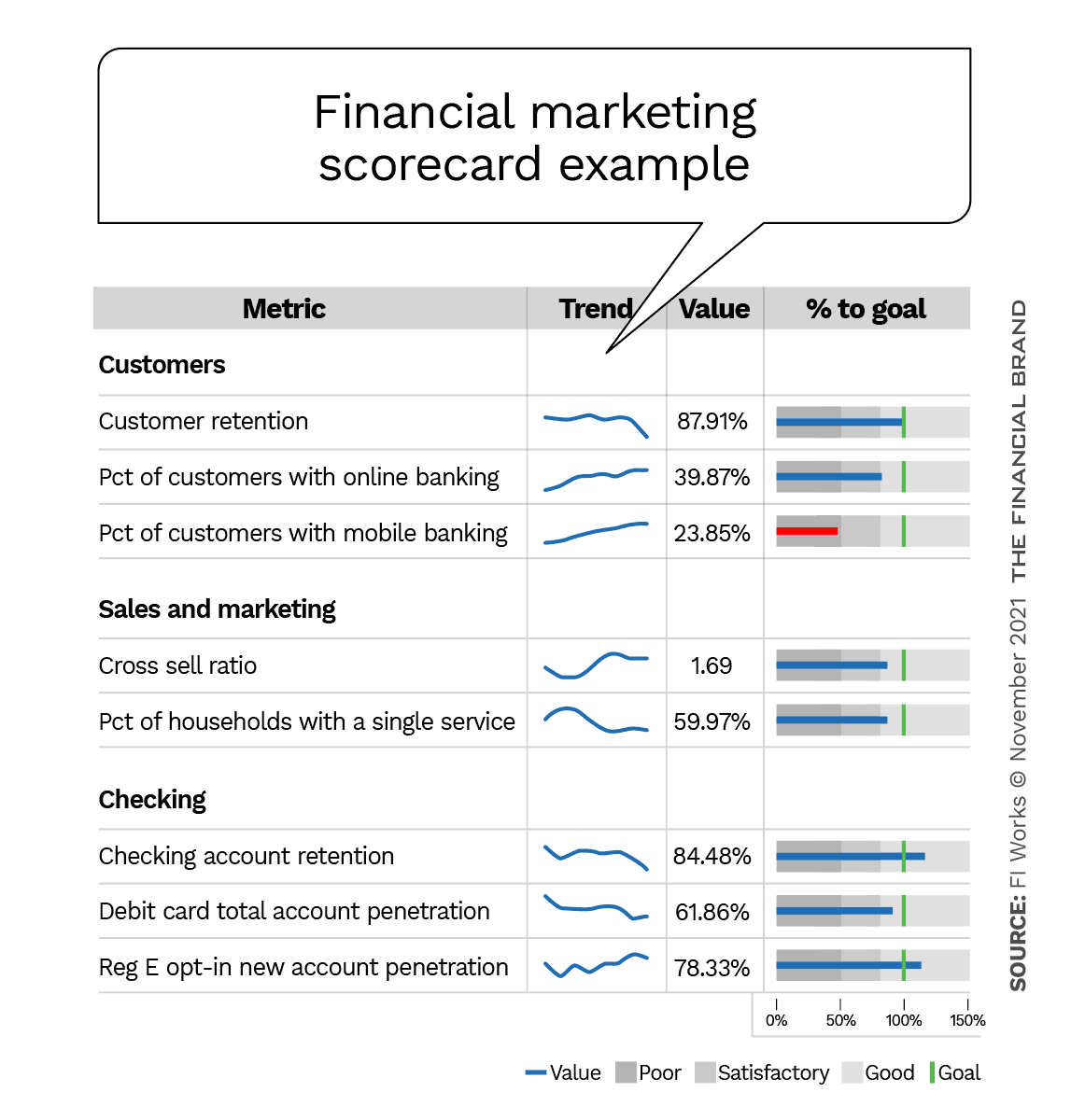 2. Segmentation
Use segmentation models to understand your customers and direct your automated programs. Some institutions use simple age and income schemes while others use third party systems to understand retail segments and their financial behavior. Segmentation has been a mainstay of financial marketing for many years, and it still very useful today.
Pro tips
Avoid over-simplification of age and income models.
Use third party segmentation models, like Nielsen P$ycle Premier, to get a high-level understanding of customer behavior.
Use high-level segments to send the right communications.
Segmentation is still good for the human brain, but there are better approaches.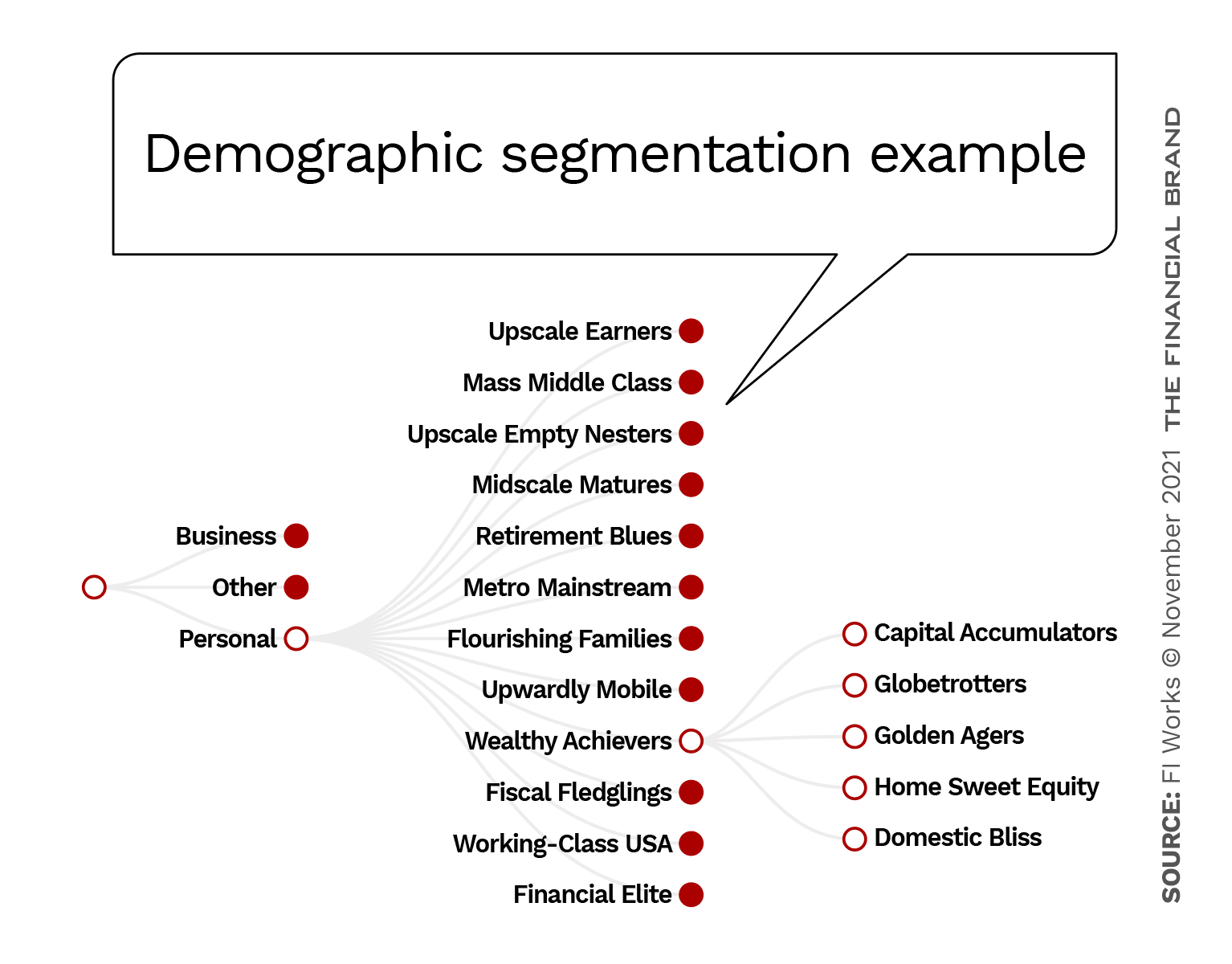 3. Intelligent Targeting
Use the dozens of systems with hundreds of data points you have for each customer to predict their individual financial needs. Machine learning can then be applied to help you strategically target the right cross-sell offers to the right customers during onboarding and ongoing nurturing.
Pro tips
Get ahead of your customers by using intelligent targeting. Target the right offer/product to the right customers at the right time.
Use partners that can create models for you to close the gap between what you can do and what large organizations do without the high costs. You do not need to hire a data scientist! Buy the science and technology together.
4. Automation
Ensure consistency and free up your time for strategic initiatives by automating your customer experience programs creating marketing processes that work for you every day. You can also use automation to distribute tasks to your front-line staff. Some have even built in CRM features to truly connect marketing and sales.
Pro tips
Reduce time spent on manual marketing programs.
Move toward continuous marketing by using marketing automation.
Connect marketing and sales with built in CRM features.
5. Personalization
Leverage your advantages as a community institution by personalizing communications.
Pro tips
Use your data and segmentation to personalize automated messages to your customers.
Mix automated channels with personal contacts via phone or in-person meetings.
6. Onboarding
You get only one chance to make a good impression and that chance starts with onboarding. Using automation, you can excel at onboarding by communicating with your customers and tracking how and when an employee is reaching out to a customer.
Pro tips
Automate your onboarding process to ensure great and consistent customer experiences.
Leverage your data to send the right message to the right segment, be it existing customers or new, personal or business.
Mix fully automated channels with personal touch points. Common steps include: mailed welcome note or email; mailed thank you note or email; courtesy call; email survey; engagement call; and needs assessment email.
Build on trust in the onboarding process before cross selling.
7. Nurturing
Are other banks talking to your customers more than you are? You need to nurture your relationships by continuing to communicate with your customers consistently after the onboarding journey is complete. You can use segmentation to determine the cadence of communications with your existing clients.
Pro tips
Don't stop communicating with you customers at onboarding.
Leverage surveys to find out what your customers think and want.
Make cross-selling a value-add.
When combined, each of these strategies are great, but they do not stand alone. You need to bring all these elements together in one place. A modern sales and marketing platform equips you to maximize your marketing efforts. Data analytics and automation work together to help your institution give customers the best experiences to drive deeper relationships while retaining your biggest advantage as a community institution.
Now is the time for community banks and credit unions to implement these key concepts and let go of outdated marketing. Contact us to learn how FI Works can help you update your marketing system and your marketing and sales results.