So far in this series we have uncovered how proper data management can make your data count, how to utilize that data to deliver what your customers need with intelligent targeting, and how to turn data insights into action with smarter marketing campaigns. This is the final article in a four-part series covering the ways technology can enable systemic growth for your community financial institution.
To complete the picture we have been painting in the last three articles, you'll need to understand these last three points:
Not all sales and service features are created equal. Some are required to sufficiently help financial institutions give the best possible customer experience in addition to keeping everyone organized. You need a lot more than customer profiles to foster better relationships.
Measure everything. Systematic performance management gives visibility to what matters and what works. When you know how everything is functioning you can see better what needs to change or what can be improved upon.
A major challenge that financial institutions must tackle is the disconnect between the sales side (retail, commercial, customer-facing employees) and the marketing side of the institution. The secret to success in today's competitive financial climate? Unify your front office and marketing team and you will improve customer experience, ease the strains of digital transformation, and drive enhanced employee performance.
Let's dive in to learn the requirements of a sales and service system, the benefits of measuring everything, and how to fix the disconnect problem within your front office and marketing team.
The sales and service features you need
Today, a sales and service system (often thought of as a CRM system) is no longer optional. They absolutely need to be a top initiative for improved customer relationships and unifying a modern institution as a whole.
Yet, financial institutions are often concerned about what they can actually get out of a CRM system – these concerns are legitimate. Many have experienced multi-year implementations, high costs, and an inability to see benefits to their bottom lines.
The problem? Typical CRM systems either cater to the needs of marketing (email and other marketing automation tools) OR sales (automation for contact management and pipeline reporting), but neither seem to provide the tools that drive high-performance within your team. A sales and service system should always include these crucial features:
A complete 360-degree view of the customer
Integrated prospect and lead information
Great contact management features
Contact history tracking
Referrals and referral tracking
Sales opportunities and pipelines
Sales analytics
Customer case tracking
These resolve some of the issues that financial institutions deal with but be aware that a typical CRM is not the ultimate fix for your growth problems. In many cases, the tools available are built to serve a wide range of industries. Your sales and service system needs to be designed for a financial institution and the specific problems they face.
Click here to learn why typical CRMs are not enough.
Measurement capabilities are also a necessity in your sales and service technology because growth projects should never be a shot in the dark. Measurement gives you the data you need to influence positive improvements and this visibility can then drive high-performance behavior in your team.
Performance Management
The man who invented the department store famously said,
"Half the money I spend on advertising is wasted; the trouble is I don't know which half" (John Wanamaker, 1838-1922).
But this isn't just about advertising — It can be your marketing spend or your CRM dollars that are wasted without your knowledge of how or why. If you are spending money on it, you should have knowledge of what (and who) is functioning best. You should always be able to measure everything and know how well campaigns and employees are performing.
Are you still using an outdated system to assess performance? Are you measuring the right things? That is why it's a necessity to employ data-driven performance management. Performance management focuses on organizational, product, and employee performance. When performance management is included in your sales and service system, it gives you the tools to:
Meet and measure goals
Keep employees accountable
Focus on the things that matter
See real results of your effort
Drive the right behavior
Know how everyone and everything is performing
You can't see the results of your efforts if things aren't properly measured, and your marketing and sales dollars are a waste if you do not drive the right employee behavior. If properly engaged, your team will enjoy seeing the results of their work. Plus, they will be much more motivated if there's some competition thrown in. Everyone needs to share the same campaign goals, know what part they play in making the strategy succeed, and the metrics that will be used to measure success.
What gets measured gets done
"What gets measured gets done but most measurement programs are hindered by the lack of accurate, timely data. – Keith Henkel, CEO FI Works
It's true that what gets measured gets done, but you need to know what your data means to ensure a unified view of what you can actually use to improve performance and understand what needs work. Measurement tools like scorecards and leading (not lagging) KPIs can help you see things that bankers can actually affect. There's no purpose in measuring if users can't change the outcome.
Tip: the measurement process should always begin with clean and integrated data from combined sources to provide users a single, undisputed set of information.
The front office and marketing disconnect
A significant challenge in financial services is the disconnect between the front office and the marketing team. It's negatively impacting customer experience and making an even bigger hurdle out of digital transformation efforts. Unfortunately, it's also unintentionally impairing employee performance.
Your marketing team and your front office can complement each other if connected and operating with shared goals. Consumers are looking for a simplified, consistent experience. If your customer-facing employees and your marketing team are not on the same page, it's harder to provide that streamlined experience for your customers. If customers can find a smoother experience elsewhere, they will.
Customers will always appreciate a personalized touch through your different channels. Marketing messages should be tailored to the needs of customers and prospects. When a customer talks to a banker, they should be able to access knowledge of all communications the customer previously received. It's easy to give them an individualized experience in person, but your digital channels should reflect their unique experience as well.
Digital transformation is a hot topic today and many financial institutions recognize the need for. It seems daunting and out of reach, but that transformation cannot start without successfully intertwining the tasks and goals of everyone, especially your marketing team and your customer-facing employees.
How to get the most out of a sales and marketing platform
Now that you have a better understanding of the last elements of the picture, you know that it's going to take a whole lot more than a typical, generalized CRM to really inspire the change you want. Technology is much too complicated and expensive to go out and buy each individual piece of the puzzle. That's why it's important to find technology that recognizes each of these pieces as parts to a whole that caters to sales AND marketing. Here's what to look for:
Data integration – LOTS of cleaned and integrated data is required to truly understand your customers. It is the foundation to a modern sales and marketing platform. High-quality, available data directly impacts the way you look at your customer needs and solves the data dilemma that so many financial institutions deal with.
Intelligent Targeting – It can identify new customers and leads and even discovers the needs of your customers. It can show you more than who has product A and not product B, or basic age and income segmentation. This technology predicts the kind of products a customer or prospect has a high propensity to buy, probability to want, or even which customers are most likely to leave.
Smart Marketing Campaigns – this is the best way to leverage your branches as a sales and marketing channel more than just sending automated email. Smart marketing campaigns turn valuable data insights into actions that help you grow and meet the changing needs of your customers.
Sales and Service Features – a system must have financial industry-specific features that aid them in the unique problems banks and credit unions face and help you see the complete view of the customer.
Performance Management – You must be able to know whether tasks were completed, with what response, and how quickly. This way you can know just how everything, and everyone is performing. Branch employees benefit from knowing exactly what needs to be done to bring in more business. Visibility is crucial through scorecards, attribution models, and dashboards. Inspiring employees to perform against their goals and knowing exactly what to focus on has never been easier
The bottom line
So, what is a capable sales and marketing platform? We believe it's all of the above –your sales and marketing platform should effectively merge every aspect of your financial institution.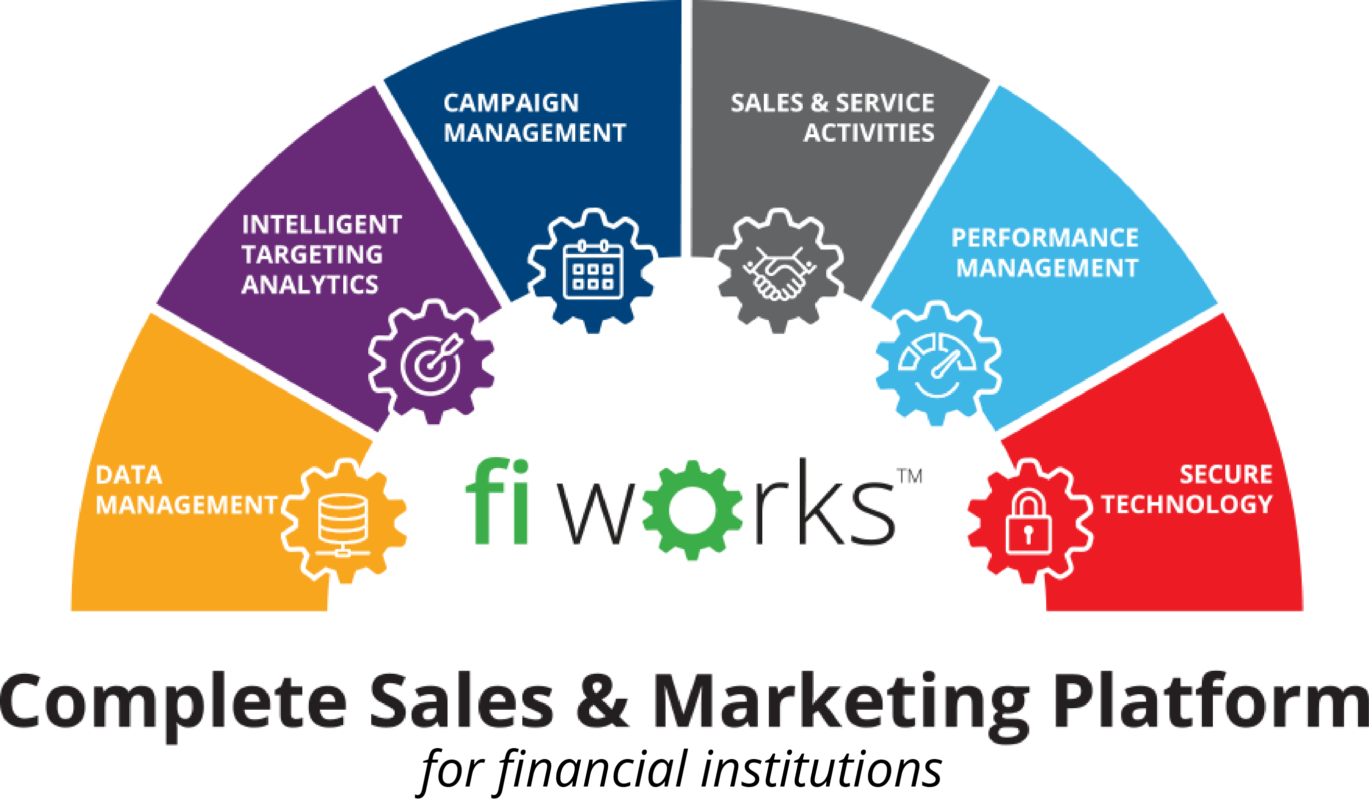 As you can see, the disconnect between the front office and marketing team can greatly hinder their performance and measurement capabilities. Beyond that, any sort of disconnection in your institution substantially frustrates growth efforts because ultimately, each piece of this arch leverages something that provides value to the others. They each build upon each other to create an interconnected, unified system (pictured above) that supports ongoing success and the best possible customer experience in an increasingly customer-focused, digital-leaning financial climate.
Ready to get started?
Like this post? Don't forget to share!